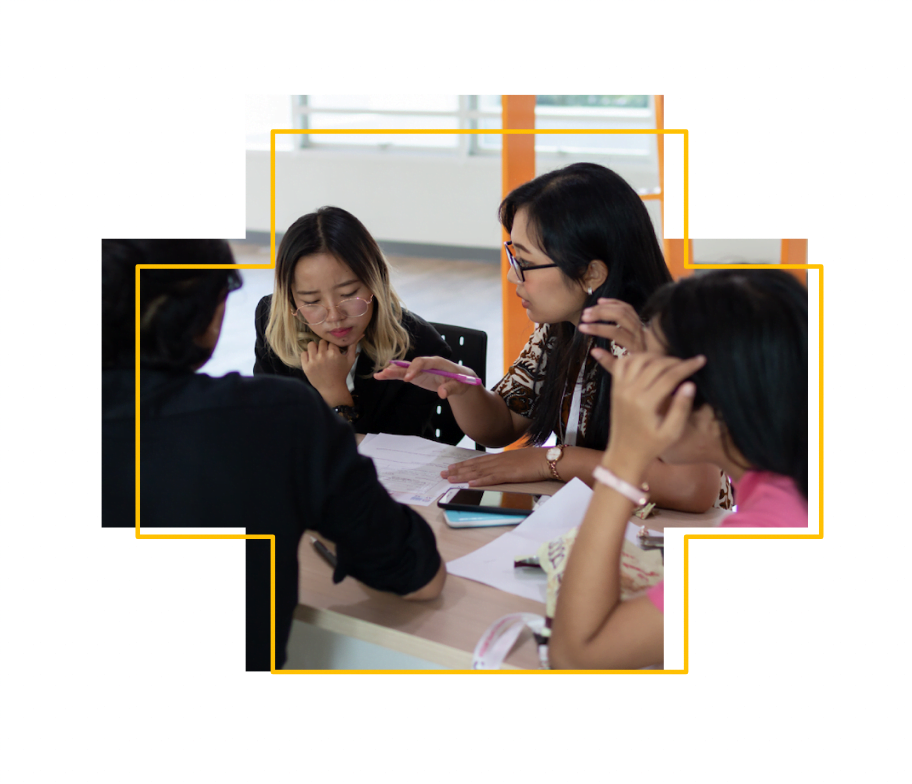 AYC is an annual signature event of ASEAN Youth Organization that gathers Youth across the ASEAN and ASEAN's partner countries.
ASEAN Youth Conference seeks to gather around 200 ASEAN youth leaders and change-makers from the region who are keen to create and implement an action program regarding ASEAN pillars. ASEAN Youth Organization recognizes the youth as catalysts for change and development.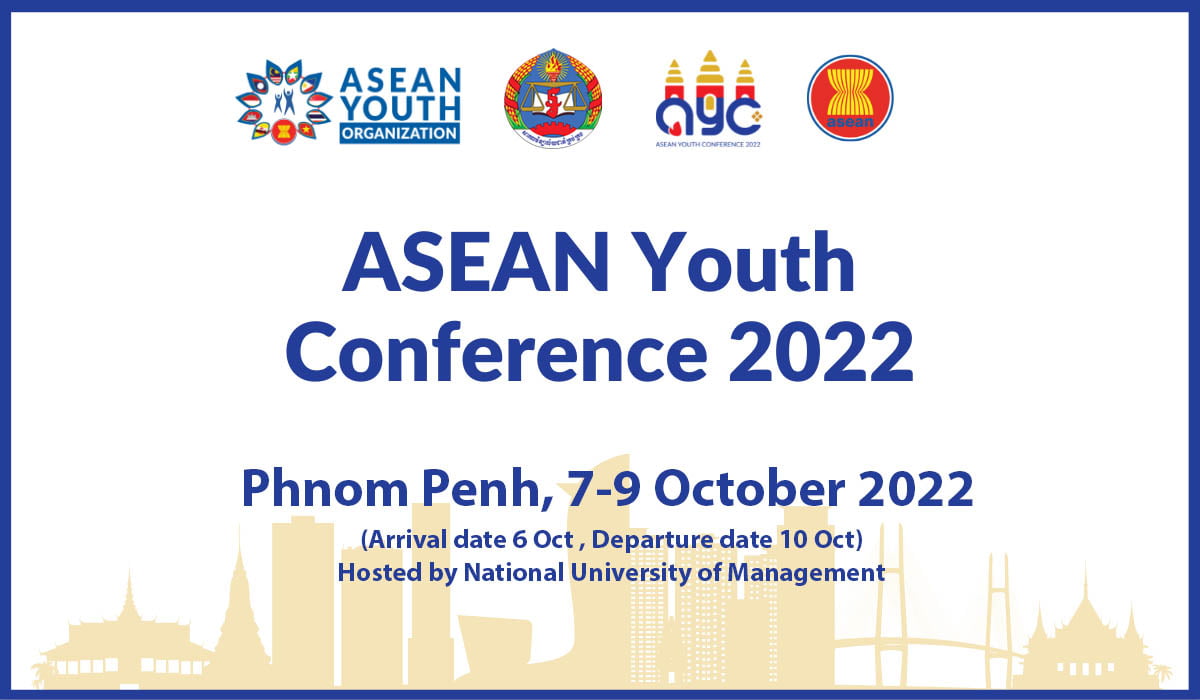 AYC 2022 CAMBODIA
Youth Connection for Sustainability
ASEAN Youth Conference (AYC) 2022 seeks to gather 180 ASEAN youth leaders and change-makers from the region who are keen to share their thoughts about challenges and opportunities and create policy recommendations to the ASEAN Secretariat regarding their chosen pillar. ASEAN Youth Organization (AYO) recognizes the youth as catalysts for change and development.
ASEAN Youth Conference will be held in Phnom Penh, Cambodia for 3 consecutive days from 7th to 9th October 2022. The theme of the ASEAN Youth Conference "Collaborative Development Post COVID-19 pandemic." This conference focuses on the youth's contribution in implementing the agenda for peace, stability, solidarity, unity, prosperity and sustainability in ASEAN in accordance with Cambodia's chairmanship of ASEAN, "ASEAN ACT: Addressing Challenges Together." 
ASEAN Youth Conference 2022 Cambodia will involve delegations and discussions with respect to the 3 ASEAN pillars on ASEAN Economic Community Pillar, ASEAN Socio – Cultural Community Pillar and ASEAN Political Security Community Pillar.
ASEAN Economic Community Pillar: Incorporating and Supporting SMEs in ASEAN
Business Trends of SMEs and Enterprises
Inclusive Youth Social Entrepreneurships Ecosystem
E-Business in ASEAN
Challenges of Integrating Technology in Business
Environmental Social Governance
Challenges and Opportunities of Women Empowerment
Youth's activism on Social Inclusion and Equal Rights
Strengthening the Disabled and Minorities' Roles in Society
ASEAN Political Security Community Pillar: ASEAN Security and Well-Being

Security in Banking and Online Payment
Cyber Attacks in ASEAN
Combating Drug and Human Trafficking in ASEAN
Trends of Transnational Organized Crimes in ASEAN
DELEGATE SELECTION PROCESS AYC 2022
ESSAY TOPICS FOR AYC 2022 APPLICATIONS
SCHOLARSHIP T&C
DELEGATE SELECTION PROCESS AYC 2022
General guidelines for delegate selection:
The Applicants must be an ASEAN national in the age group of 18 to 32.
Non-ASEAN citizen  and/or Youth professional in the age group of 33 to 40 are allowed to join as an observer and presenter on sharing session.
The Applicants must submit a duly filled Application form. The Applicants MUST attach a 2 Pages long resume in the Application form. If this criteria is not met, the Application is liable to be rejected.
It is advised that the Applicants fill the form with diligence and care. Paying attention to every detail and make sure they are providing the correct and true information.
All the Applicants must pay a non-refundable commitment fee of USD 5 ($5) while filling the application form.
All the applications will be considered and accepted on a rolling basis. The shortlisted Applicants will be contacted via email which would contain further instructions and details about making the final payment.
Applicants must demonstrate affinity to contemporary ASEAN and Youth centric issues and this must be reflected in their resume and past experience.
Applicants who have contributed to ASEAN development through their work, study, research or volunteer undertaking are desirable for selection.
Applicants with prior experience in the field of research, community outreach and public speaking arenas are desirable. However, Applicants without any past experience but having affinity towards ASEAN centric issues and enthusiasm to make their voice heard are encouraged to apply.
Applicants must specify their preferences for one of the three ASEAN pillars while filling the Application form. One candidate can only apply for One pillar.
There's a total of 180 seats for AYC, 2022. 90 Online and 90 Offline. Applications would be closed in the third week of August, 2022.
Information about the selection process:
The selection process will be conducted by the AYC committee and would include the following process: Screening of CV and Application form + Essay.
Only the Applicants who have been shortlisted will be intimated via email.
The decision of the selection committee will be final and binding.
The Applicants will be tested on the following criteria (not exhaustive) but inclusive of: Communication skills (active and passive listening and responding), Writing skills (Essay), Past relevant experience (CV screening), Clarity of Thought, Ability to navigate through the ideas through their essay, overall presentation, etc.
The selection committee reserves the right to terminate any candidate from the selection process if they are found to be disrespectful or not behaving in a professional manner etc.
ESSAY TOPICS FOR AYC 2022 APPLICATIONS
SCHOLARSHIP T&C
Offline/In Person Package
Early Bird 235$  (Application Closed) 
Payment date:
Deposit 50$ (Deadline 25 July 2022)
Final Payment 185$ (Deadline 31 July 2022)
First Wave 260$  (Application closed) 
Payment date:
Deposit 70$ (Deadline 28 August 2022)
Final Payment 190$ (Deadline 31 August 2022)
Last Wave 310$  (Application date 26 August – 4 September 2022) 
Payment date:
Full Payment 310$ (Deadline extended: 8 September 2022)
Cambodian Delegates 50$  
*Hotel Excluded
*Partial scholarship is available. Please check on Scholarship T&C
The fee will cover:
Hotel (check-in 6 October 2022 – check out 10 October 2022)
Local Transportation
Airport transfers
Meals (7-9 October)
Handbook
Tool kits
Merchandise
Whole Conference
Gala Dinner and Cultural Exchange Night
*Flight ticket & Medical Insurance is not included
15$ for the Digital Natives.
The registration fee will cover Handbook and Whole Conference (Online)
ASEAN Youth Organization accepts several types of payment;
Credit Card (Visa & Mastercard)
Local Bank Transfer
E-Wallet (Selected Countries)
Note:
We prefer credit card payment or e-wallet and it will directly appear on the payment landing page
If you choose local bank transfers, please contact ayc.payment@aseanyouth.net with subject: Payment (Your country name)
Read all information about AYC Cambodia
Click Register Now
Pay Commitment Fee of 5 USD to obtain and fill the application form according to the deadline
You can see your purchase by clicking the cart icon on the top right of this page
Please prepare your essay based on your pillar preference, and complete the application form sent by our team.
Please wait for maximum 5 days of the confirmation of acceptance
Pay deposit and final payment according to the payment deadline
Be an official AYC 2022 Delegate (Offline or Online)
See you in Phnom Penh!
Previous Speaker
H.E. Baey Yam Keng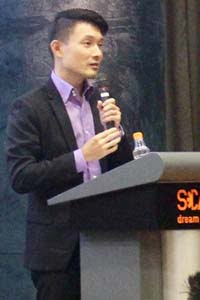 Previous Speaker
H.E. Korn Chatikavanij
Senjaya Mulia, Founder AYO
Y.B Prabhakaran, Member of Parliament of Malaysia
H.E. Ambassador Marilyn Alarilla, prev. Philippines Ambassador
Prof. Danny Quah, Dean of Lee Kuan Yew School of Public Policy
Agung Pamungkas, ASEAN Secretariat
Jayren Teo, Director AYO SE,
Rahmat H, Vice President of Daily Social
Dr. Bryan Sidhu, Chief Project Officer Majlis Ekonomi Malaysia
Christina Zhao, CEO Greenwell Science
Quentin Frcn, Innovation Director at Schoolab
Luong Nguyen, Head of Solutions Mapping, UNDP Vietnam
James Balzer, Program Lead AASYP
Hui Woon Tan, Founder & Managing Partners, Alley 51 Ventures
John Ditty, Partner at KPMG
Alex Aung Khant, Youngest Political Candidates of Myanmar
Agatha Lydia Nathania, Program Director of AYC 2019 
H.E. Artauli Tobing, ASEAN IPR
Steve Cheah, GEN Thailand
Tongjai Thanachanan, C ASEAN
Margianta Surahman, One Young World
Gita Sjahrir, Entrepreneur
Dr. Prapaporn TM, Dean, School of Global Studies, Thammasat University
Nophabodee Koonmongkon, AIESEC Thailand
Ivana Suradja, AYO Enviro
Michael Huang, Program Director AYC2021
Regine Guevara, Asia TV
Many more..