Maximizing a found opportunity is hard. Creating an opportunity that has profound effects for a lot of people is even more challenging. This month we are going to talk about some of the best young entrepreneurs from ASEAN. They created such notable achievements; Forbes even includes them in their 30 under 30 Asia list.
An entrepreneur is a person who organizes and operates a business or businesses, taking on greater than normal financial risks to do so. From this definition, we can understand that being an entrepreneur is no easy task; many things can go wrong, even with simple mistakes.
Many of us are currently in our youth years, and let's face it: many of us are facing mid-life crises. Hopefully, by learning from these inspirational people, we can overcome our hardships and create bright futures of our own. 
What are we going to read, you might ask? Ranging from a startup that provides quality coffee to a B2B pharmaceutical platform, let's see some of ASEAN's best entrepreneurs and their solution to the problems that they faced.
Let's go!
One of Singapore's Solution to Food Wastage: TreeDots
According to TowardsZeroWaste, Food waste is one of Singapore's most significant waste streams, amounting to 744,000 tonnes in 2019. One thing is apparent: Food wastage is an urgent problem in Singapore that needed to be solved quickly and efficiently. 
That is why in 2017, Jiacai Lau, along with his two secondary school friends, co-founded TreeDots. The B2B platform tackles the problem of unsold foods that are nearing their expiration dates and swiftly redistribute them to organizations and businesses such as restaurants, caterers, cafes, hotels, central kitchens, and more. 
The effect was enormous: they managed to save up to 40 tonnes of food in 2018, a mere year from their first operation. Not only managed to save up foods, but the platform also helps suppliers gain value from their unsold inventories and assists buyers in getting quality ingredients at more affordable prices.
How RAGE Coffee utilizes technology for its business in Malaysia.
Jevin Singh started driving for Uber after he dropped out of college due to financial difficulties. At the time, coffee was something that connects drivers. However, it was not easy for them to find quality coffee at affordable prices. Due to that reason, Jevin Singh founded RAGE Coffee with cofounder Mohamed Afzal. In their business, RAGE Coffee utilizes something to aid their business that everybody uses: smartphone.
They made their own app on both iOS and Android platforms so that customers can preorder drinks as well as get them delivered to them from the app. This way, RAGE has full control over the entire process of order and delivery for their products.
Aruna, a breath of fresh air for Indonesia's fishermen.
Indonesia's fishing industry is massive; in 2015 alone the export value for fish products reaches US$ 3,94 billion. In just two years, that value increased to US$ 5 billion. However, the fishing industry in Indonesia still wasn't at its peak. One of the challenges that the industry faces is the lack of access between the fishermen and customers. The use of technology to bridge fishermen and customers wasn't maximized to its full potential.
That is why Farid Naufal Aslam along with cofounders Indraka Fadhlillah, and Utari Octavianty founded Aruna, an e-commerce startup that specializes in the fishing industry. Aruna has two main goals: providing a digital fish auction platform for fishermen to sell their products at a fair price as well as a marketplace for seafood products. 
Currently, Aruna works with 5000 fishermen in 15 provinces across the country. The startup became the grand winner of the NUS-Alipay Social Innovation Challenge; a promising sign for success.
Bellug's way out for the painstaking luggage handling in Thailand.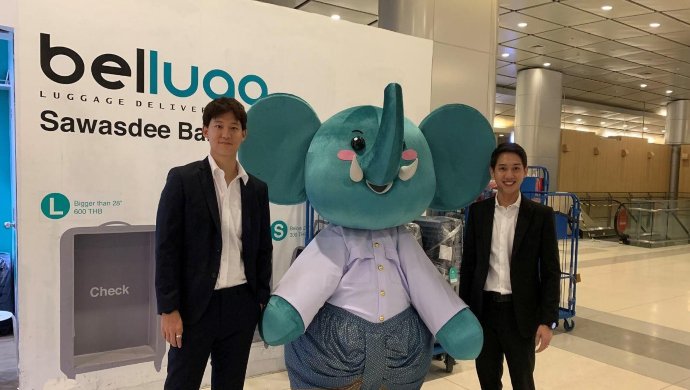 Source: Tech In Asia
Duo Sipavich Dhumrongvaraporn and Sithi Nerngchamnong founded Bellugg with a single purpose: to allow travelers for sending their luggage from the airport to their hotel or residence with ease of mind and convenience. Security will be guaranteed by an interactive tracking system as well as insurance that covers up to THB50,000 (around $1,600) per luggage. 
The company serves more than 200 hotels around Bangkok and also partners up with many big companies and hotels in Thailand such as Superrich Thailand, Garmin, AIOI Bangkok Insurance, Buddy Group, Heritage Group, Siam@Siam hotel. In 2019, Bellugg received undisclosed pre-series A funding from Expara and 500 TukTuks.
The Cacao Project tackling farmers' misery in the Philippines.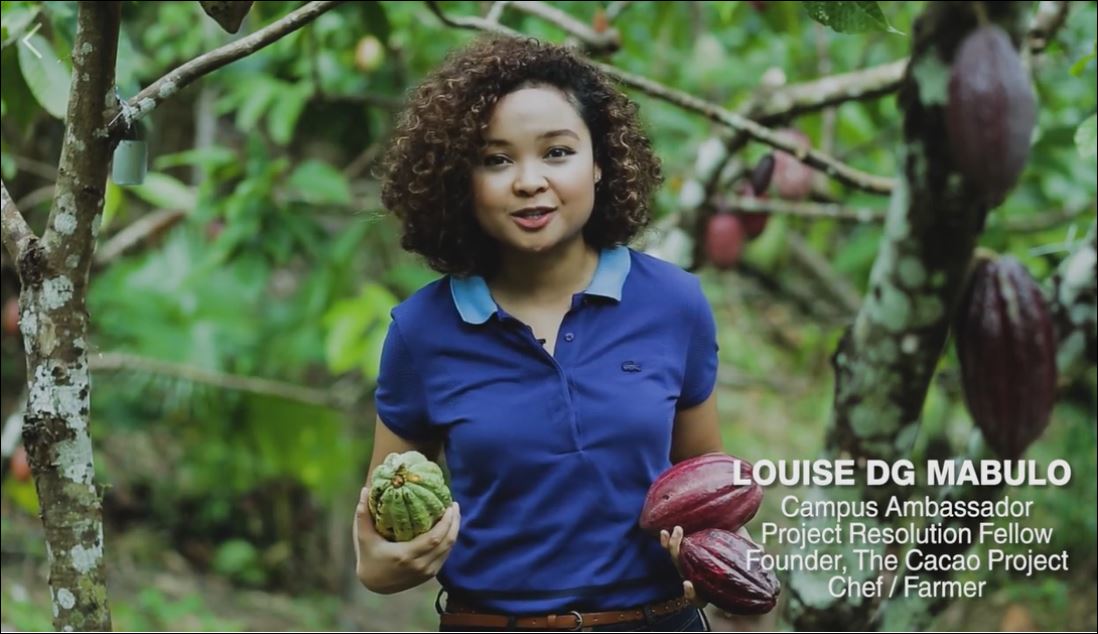 Source: Good News Pilipinas
After typhoons and hurricanes destroyed plantations across the Philippines, many were left devastated by the effect. Being the wonder girl that she already is, Louise has a noble ambition to help families maintain a sustainable livelihood. How, you might ask?
She started The Cacao Project, an initiative that improves the lives of farmers in the Philippines by providing them with cacao plant seedlings, as well as educating them on how to sustainably produce cacao. Not only that, the project also helps with efforts on reforestation along with the revival of two water sources from increased water retention in soil. Other than cacao, farmers also provided with plants that intercrop with the cacao and maintain soil fertility such as bok choy, okra, and pumpkins.
To date, the Cacao Project has helped more than 200 farmers plant 80,000 trees. Due to her stellar work, the United Nations Environment Programme recognized her as a Young Champion of the Earth in 2019.
A godsend to improve the lives of farmers in Myanmar: Rice Inc.
Source: ProspectsASEAN
Smallholder farmers in Myanmar lost around 20% of the rice produced. That translates to 45 billion dollars of losses every year. This is due to farmers' lack of access to modern rice-drying technology. Moreover, they lack power in the rice supply chain, where the price is dictated by big millers and farmers only get a small fraction of the value of the rice they produce. Because of this, farmers have very little for kids' education, since they have barely enough to eat.
Kisum along with three other UCL students Lincoln, Vannie, and Julia started a social enterprise called Rice Inc. about four years ago. They beat more than 100,000 university students from 121 countries and won the Hult Prize, the world's biggest startup competition for students. They also won the Norman Borlaug Award for their contributions to agriculture and food production.
Rice Inc. aims to reduce the amount of rice lost during harvest and protecting rice from contamination as well as providing storage. The startup claimed to have helped process more than 2,000 tonnes of rice and prevented about 200 tonnes of losses. It also aimed to double the income of 49 million farmers by 2025.
"No more medicine shortages!" Vietnam's Hoang Nguyen, saving the world.
The shortage of medicine, especially in rural Southeast Asia is a prime problem. That is the reason behind Hoang Nguyen's idea of starting Thuocsi.vn from the startup in which he co-founded and become the CEO of the company: BuyMed.
The startup also received a USD 2.5M pre-series A financing round, led by Surge and Genesia Ventures. Nguyen stated that it will help his company's commitment to "supporting both pharmacies and pharmaceutical partners in times of a healthcare crisis."
The startup operates an online marketplace matching orders with distributors and provides real-time pricing as well as logistics information. Averaging on a monthly basis, the startup claimed to have helped 2,500 pharmacies source from 150 suppliers in Vietnam alone.
Being an entrepreneur is no easy task. It requires passion, resourcefulness, willingness to improvise and listen to others, and strong determination to succeed. Hopefully, after reading about these entrepreneurs, we can take a lesson or two from them to apply in our lives. Even more so, we can start our own businesses and be an entrepreneur that provides. Just like them.
What do you think?
Gamal Kevin Alega | @gamalkevin
A law student from Indonesia; currently living in Pekalongan, Jawa Tengah. Highly enthusiastic about languages, cultures, and technology. Joining AYO as a Content Writer with the intention of honing writing skills, as well as enriching connections from various cultures and backgrounds. A proficient eater with 23 years of experience as well.