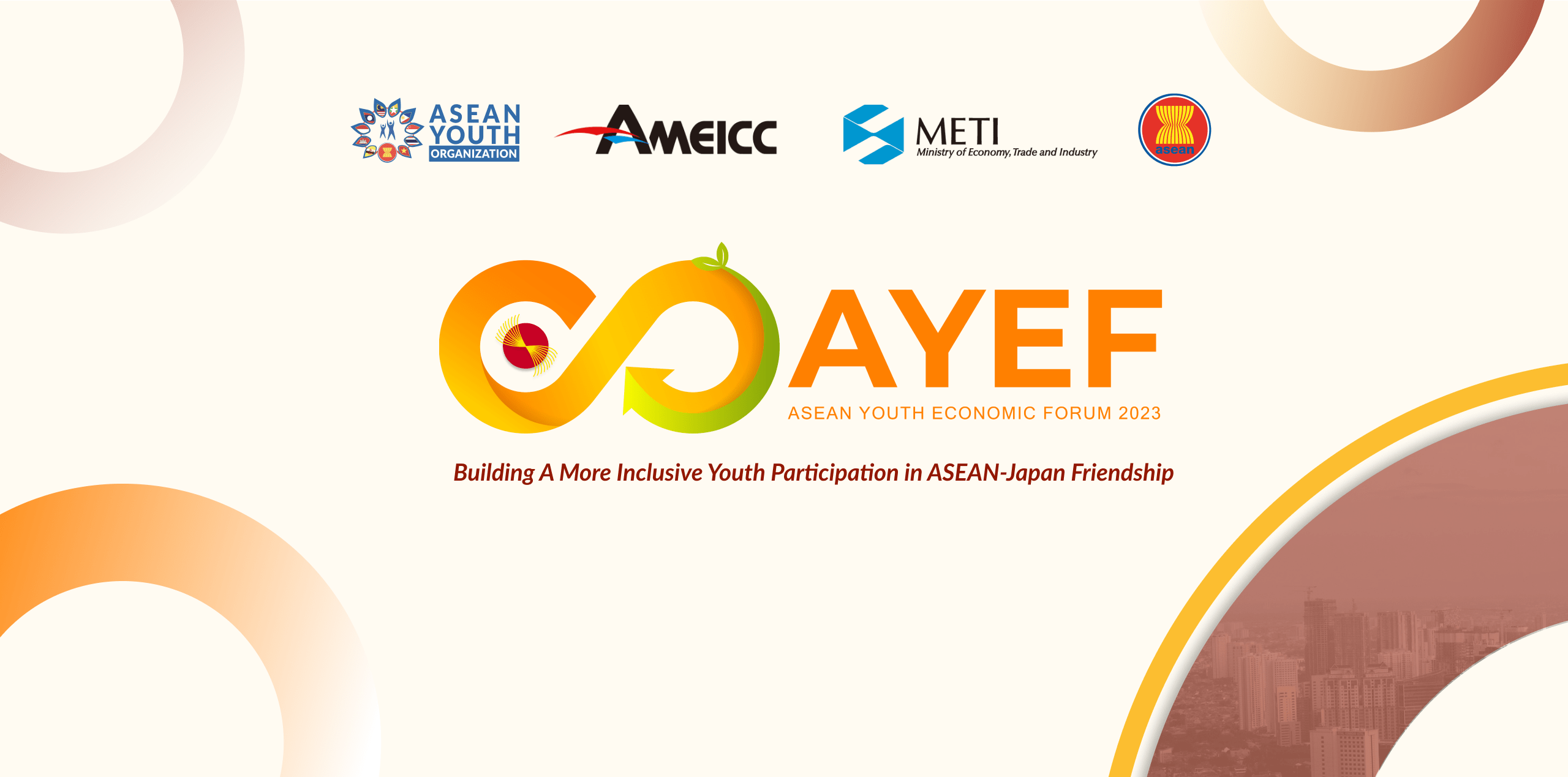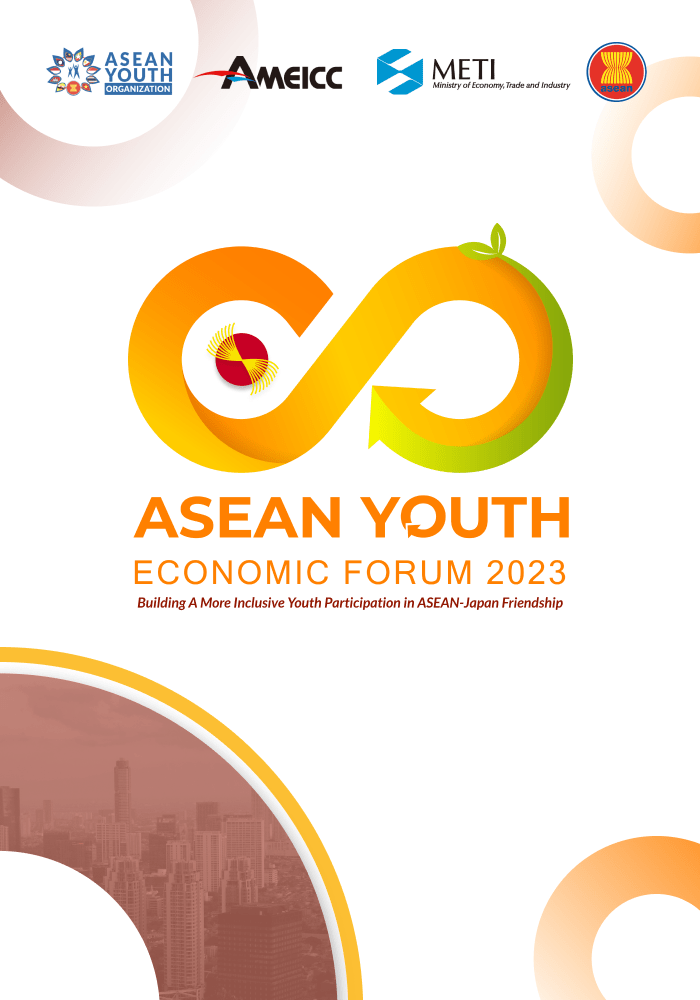 ASEAN Youth Economic Forum 2023
In commemoration of the 50th Anniversary of ASEAN-Japan friendship and cooperation under the theme of Golden Friendship, Golden Opportunities, the ASEAN Youth Organization is organizing the first and largest ASEAN Youth Economic Forum in Southeast Asia and supported by the AMEICC (AEM – METI Economic and Industrial Cooperation Committee) the AYEF 2023 program attempts to provide young leaders of ASEAN and Japan with the opportunity to directly engage, collaborate, and work hand-in-hand towards strengthening closer ties between the two regions.
With the main theme of "Building A More Inclusive Youth Participation in ASEAN-Japan Friendship", this program will serve to promote people-to-people mobility, enhance mutual understanding between young people of ASEAN and Japan, as well as to provide the opportunity for a more inclusive youths participation in policymaking processes.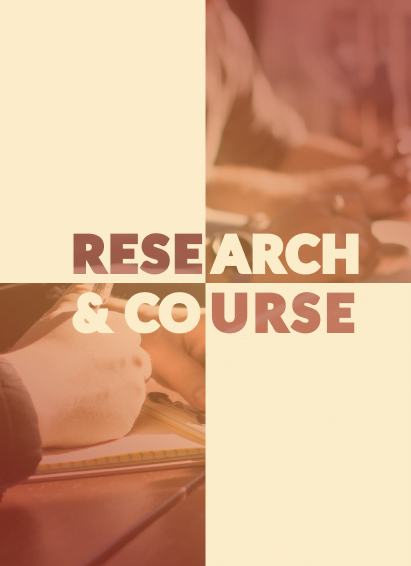 Research & Course
Understand the current trend and studies about circular economy in ASEAN.
Forum & Network
Connect with professionals across the globe and build the cooperations.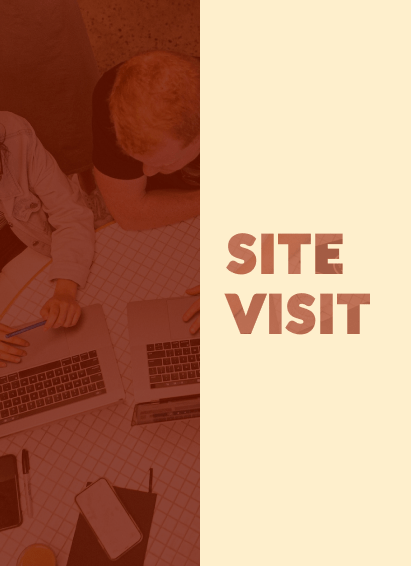 Site Visit
Direct learning from the industry player in circular economy and knowledge sharing.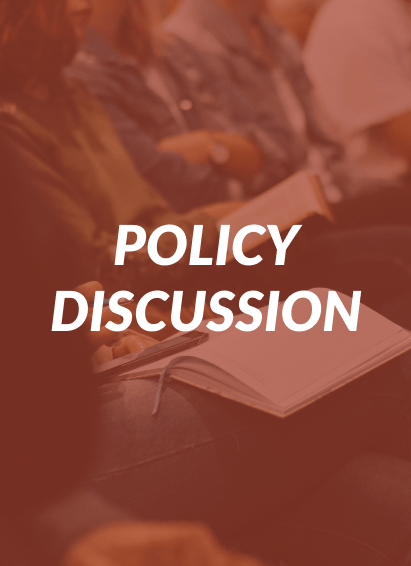 Policy Discussion
Propose policy recommendation to the high-level stakeholders in ASEAN.
Sasono Mulyo Ballroom, Le Meridien Hotel (Public Forum)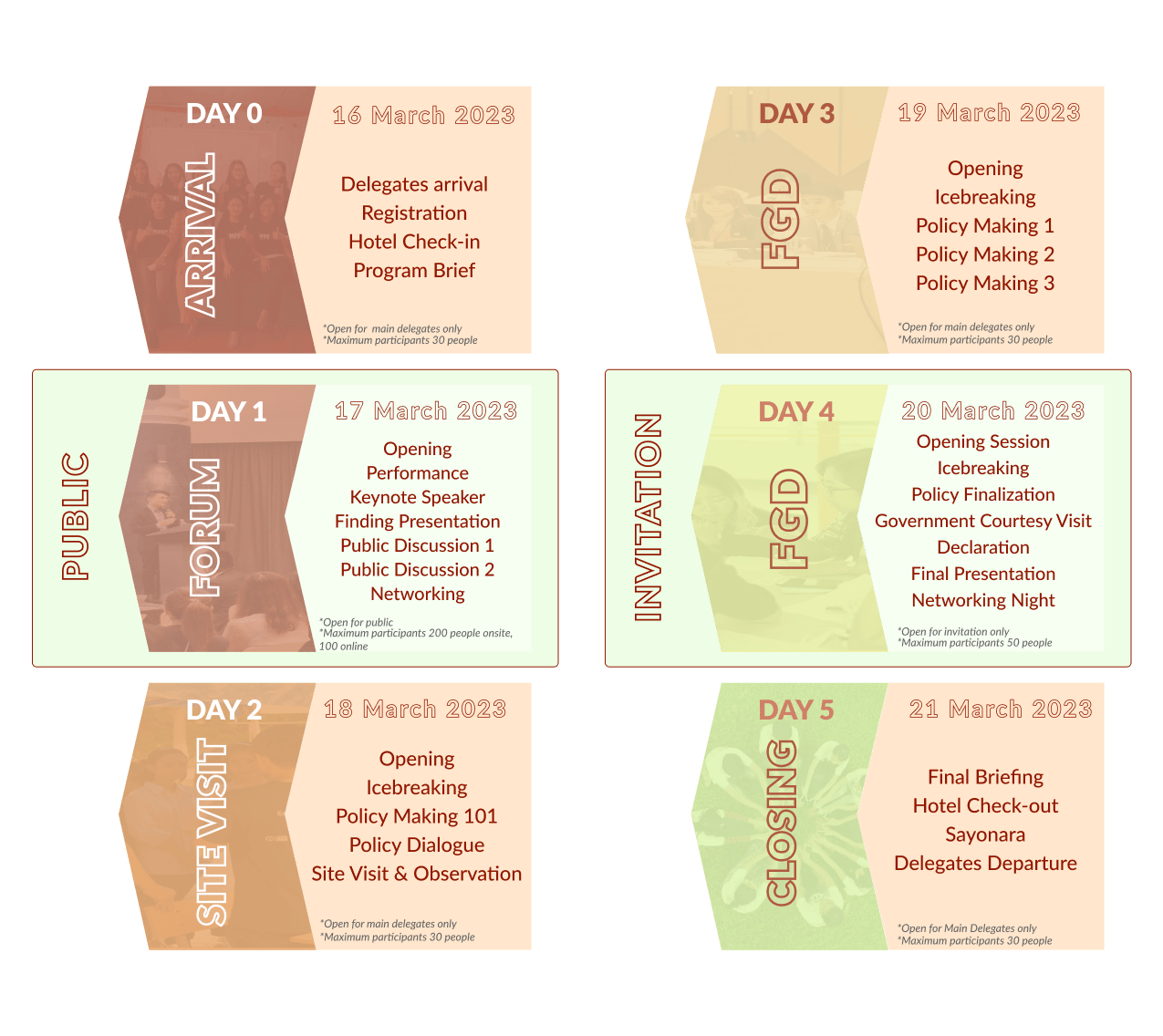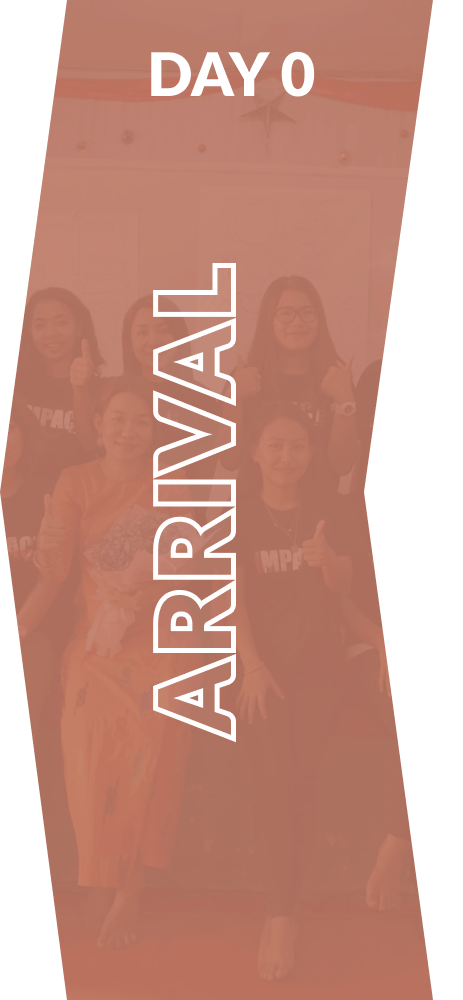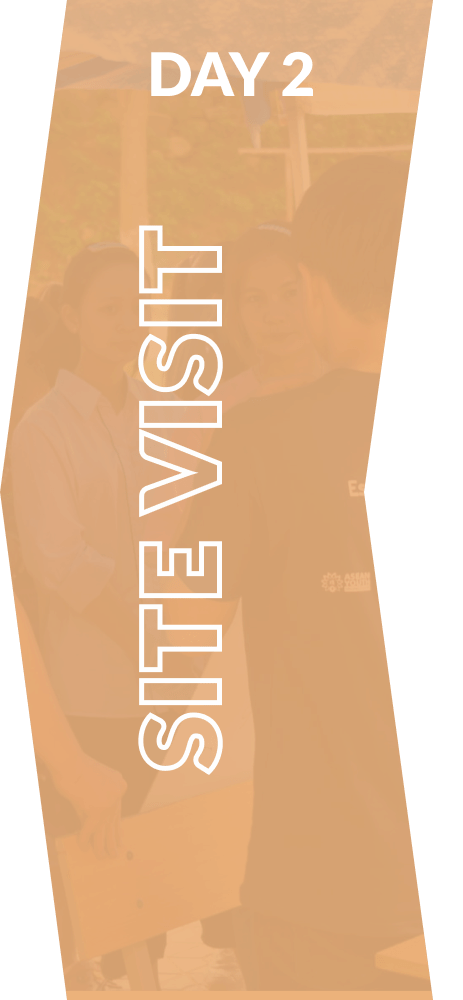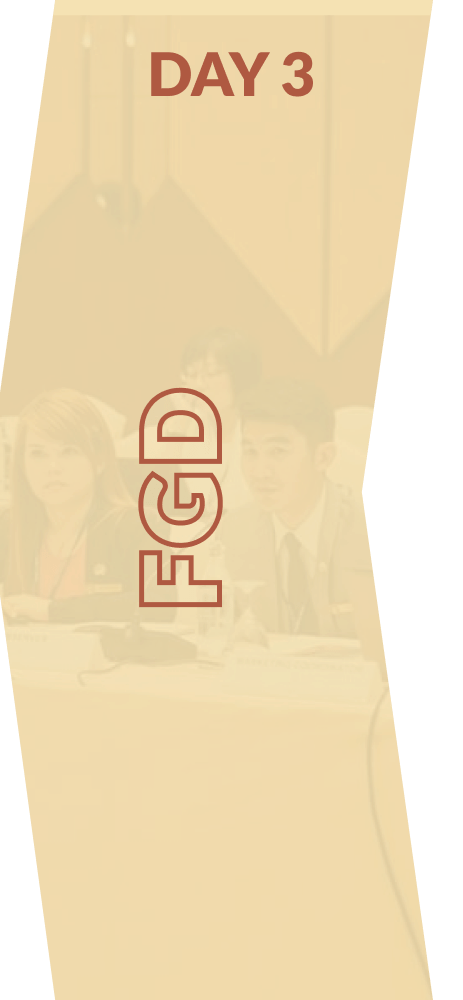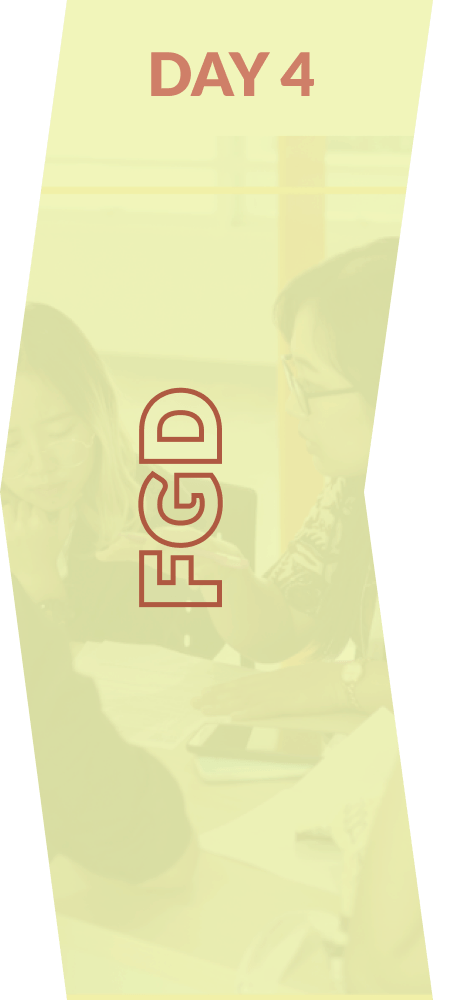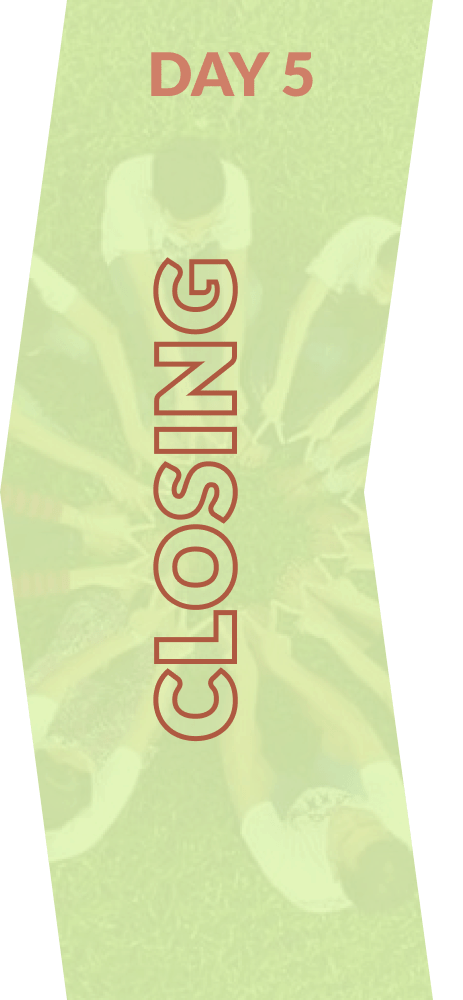 Full program of AYEF 2023 will start from 16 March 2023 and will be ended on 21 March 2023. The 6 days 5 night event will invite participants composed of around 20 ASEAN young professionals, policymakers, researchers, economists, government officials, and/or university students.
The program will consist of the public forum, policy dialogue, policy making, networking, and site visit. Youth Leaders and Professionals from Japan and all 11 ASEAN countries with work expertise, study focus or volunteering experience in sustainable development, circular and green economy, and youth leadership are encouraged to apply.
This full program is FULLY FUNDED and only limited to 20 delegates. Included: Return flight tickets (Departure must from/to one of ASEAN Countries or Japan), hotel, meeting package, meals during the program, merchandise, airport transfer, and local transportation.
Criteria:
ASEAN and Japan Nationalities aged 18-35 years old (by March 2023) based in Japan and ASEAN countries are eligible to apply
Possess a good command of English in writing and speaking
Having a knowledge of cooperation between ASEAN and Japan related to the Circular Economy is more desirable
Have an active passport of at least 6 months (valid until September 2023)
Have obtained at least 3 doses of Covid-19 vaccination
Youth with disabilities is encouraged to apply
Required to fill in the Circular Economy Research HERE  
You are being encourage to take the course HERE
Have a background related to a circular economy, green growth, environmental policy and/or public policymaking
Have a minimum of 2 (two) years of experience and currently work in institutions related to climate-change governance or study in the related field.
Submit a Recommendation Letter from supervisor/lecture (please find the letter template HERE)
Please prepare your current CV/Resume (In English) before you apply for the fully funding.
We provide partial funding for waiting list applicants. Should you interested to obtain this partial funding, please checklist the form in the section partial funding needed.
Alouny Senduangdeth - Lao PDR
Gerald John Guillermo - Philippines
Jitsai Santaputra - Thailand
Khairunnisa Ash'ari - Brunei Darussalam
Kittikun Saksung - Thailand
Kuncharee Thanaddoenkhao - Thailand
Mohammad Zulhafiy Zol Bahari - Malaysia
Ngoc Vuong Hong - Viet Nam
Robi Kate Miranda - Philippines
Satrio Adi Wicaksono - Indonesia
Veronica Low Kai Lin - Singapore
Yeni Pereira - Timor Leste
We have received nearly 400 applications for the ASEAN Youth Economic Forum Full Program. We are amazed by all of your experiences and works. Unfortunately we are unable to accommodate everyone as we only have strictly limited spots. 
But don't be sad! There are still countless of opportunities in the future and we look forward to have you in other programs!
Congratulations to the selected Delegates and see you in Jakarta for AYEF 2023!
Friday, 17 March 2023 (9am-4pm)
Sasono Mulyo Ballroom, Le Meridien Jakarta
Jl. Jenderal Sudirman Kav. 18-20, Central Jakarta, Indonesia
AYEF Public Forum will be a full day event and will be attended by many professional and experts, government institutions, and high level speakers. This Public Forum will be opened for public with any nationality. Registration before the forum is required.
This forum is only limited to 100 public participants (On-site participation). Lunch, coffee break, and merchandise will be covered by Organizer.
Criteria:
Any nationalities and ages are welcome to apply
Possess a good command of English in writing and speaking
Having a knowledge of cooperation between ASEAN and Japan related to the Circular Economy is more desirable
Have obtained at least 3 doses of Covid-19 vaccination
Person with disabilities is encouraged to apply
Required to join Circular Economy Course HERE
We encourage you to complete the course and obtained the e-certificate number before you apply the Public Forum.
For you who cannot attend the forum on-site in Jakarta, we provide an access to join the forum online. Please choose online participation during your registration
Deadline of application is 10 march 2023, so please apply before the deadline.
Are you representing an institution?
Partner with us and receive benefits as an exclusive partner for the ASEAN Youth Economic Forum 2023.
Join AYEF 2023 team as Volunteer
Be AYEF Volunteer and be a part of the community development. Apply before 6 January 2023.